In Victorian times most market towns held the regular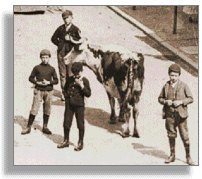 livestock markets in one of the main streets, and cattle had to be kept in separate groups. Proper cattle markets with pens for the stock came later, and most school Log Books tell of children absent from school on market days.
Many old photographs of street livestock markets show children minding the cattle - while the farmers were "doing business", or having a few drinks - in one of the local inns. These were always very busy on market days !
You can tell that the head teacher didn't think much of the local "drinking families" who kept the children outside in all weathers when they should have been at school.
Back to Llandrindod schools menu