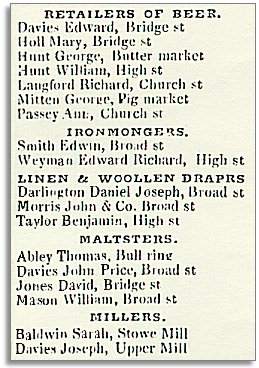 As well as the public houses in the towns of Powys there were many sellers of beer. This was usually done from the back kitchen and people could call round and buy a jug of ale.
Beer was often drunk by the whole family when drinking water was not to be trusted.
A draper was a person who sold material. This was important at a time when many people made or repaired their their own clothes.
The maltster treated barley with malt in his malthouse. The finished product was then used to brew beer.
The millers of the area played an important role in the local economy, grinding corn in their water mills to make flour which everyone depended on.