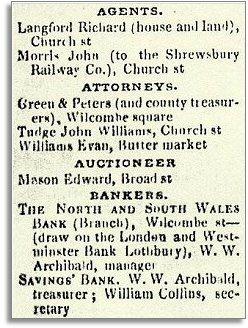 The professional men at the beginning of Victoria's reign had to work to earn a living, but they were men who were educated. Here we can see the lawyers or attorneys who were trained in the law.
The auctioneers and bankers were both very important in a rural market town. Farmers would sell their livestock through the auctioneers and businesses would keep their money in the local bank.
Don't forget!
The surnames are first
IMPORTANT! Notice that all those people listed as
"Professional persons"
are men!
Most professions were closed to women in the Victorian period.