Drawing by
Rob Davies
As these lists usually included many animals, birds, insects, plants and fishes a wide range of natural history subjects came into the lessons. Some of the basic facts about science would be included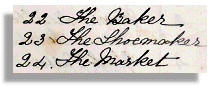 when the teacher spoke about the weather or about iron.
Other typical "Objects" would cover transport, such as the railway station, and different trades and industries.
Remember that most teachers, let alone children, would not have seen lions or eagles or ostriches. There were occasional travelling circuses with wild animals but the only zoos in Victorian times were in the big cities. There were no wildlife programmes on television, because there was no television !