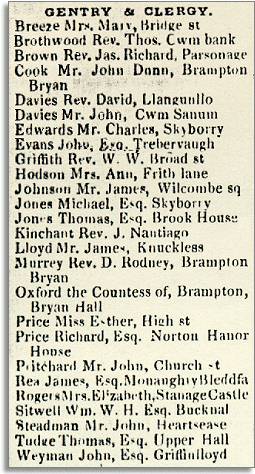 On the right is a faded list of all the people in Knighton and the Teme valley who wanted themselves listed in Slater's Directory as "Gentry" in 1858.
The gentry were property owners who did not do a job to earn a living, but let farms and houses to tenants and charged a rent. They certainly thought of themselves as being superior to those "in trade" or who worked for them.
Don't forget! The surnames are first
The clergy were the vicars of the Church of England who were usually from the families of gentry. here we can see the vicars of Knighton, Llangunllo and Brampton Bryan.
The estate owners at Stanage Castle, Brampton Bryan Hall and Norton Manor were people of power and influence. Unusually at this time, the owner of the estates of Brampton Bryan Hall was a woman, the Countess of Oxford.