Drawing by
Rob Davies
This Log Book entry reads -
3rd December - "A terrible accident happened today at the crossing, over the line, to Treluggas. One of the school-children,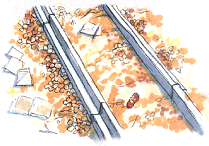 Beatrice Gough, returning from dinner, was caught by the express train and killed, being literally cut to pieces".
Knighton National Boys School reported a very sad and unusual accident in 1874. An official visit to a town by an important member of the gentry in Victorian times would often involve a parade of carriages with soldiers in fine uniforms riding alongside. This rare sight would be very hard for local children to resist...