14th December 1898 - "An Infant's funeral takes place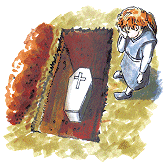 this afternoon, 4 of our elder girls are to carry [the coffin] and 6 others are attending the funeral".
This entry doesn't give the name of the child, or say whether it was a child from this school that died. But since the little coffin was to be carried by girls from the school, it seems likely that this was the funeral of a very young girl from the Infant's Class at Llandeilo Graban School.