Sewing, dressmaking and knitting were treated as very important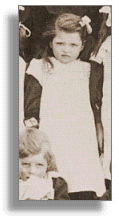 subjects for the girls who went to school in Victorian times.
There were not many jobs open to young girls after they left school, and most of them would become servants in the houses of the wealthier families of the district.
The schools mostly had a part-time Sewing Mistress who would teach the girls skills which would be required for these jobs.
These two entries are from the Log Book of Llyswen National School in 1870...
20th May - "First class girls commenced making a child's frock for the examination".
Do you like
my new pinafore ?