In September 1843 an old woman from Hay, Elizabeth Smith, was crossing the line near the church carrying a bag of potatoes when she was struck without warning by the wagons hurtling down the slope. She was killed instantly, and an inquest was held into her death.
At the inquest the coroner blamed the tram company for putting people in danger in such a reckless way. Despite this tragic accident the tramway provided a valuable service for Hay for almost fifty years.
It was to come to an end with the opening of the steam operated Hereford, Hay and Brecon Railway in 1864.
Some of the trackbeds of the pioneering Hay Tramway were used for the new railway, including the section at Hay.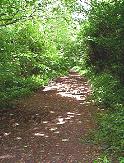 The line of the old tram road below Hay church in 1999