Drawing by
Rob Davies
The berry-picking time was a regular reason for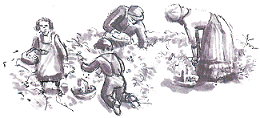 children being away from school in late August and early September. Whole families would be out collecting wimberries to be sold in the local markets. The Attendance Officer was unlikely to have had much luck with his warning notices, because parents usually ignored them - and some parents wouldn't have been able to read them !
One teacher tried another way of making children come to school...
Prizes for turning up at school...
"Benjamin Watkins, Willie Watkins, John King and John Pritchard had a slap on each hand for going a nutting at noon, and coming into school at 2.30. I had previously spoken to the school on the matter".
Crickhowell British School
1st September 1875