Most Victorian school Log Books or diaries have lots of complaints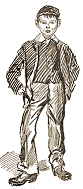 about children not turning up for school, or behaving badly when they do turn up !
But fortunately they also often have some kind things to say about many of the children, and about their school work.
The entry shown below comes from the Crickhowell British School diary of 1868 -
26th February - "Every pupil, almost without exception, punctual, remarkably tidy, and his home lesson well learned".
Punctual - to arrive at the right time.