This entry from the Log Book reads -
8th June - "The School presents a much brighter appearance than formerly. I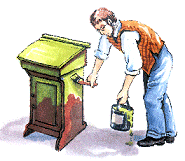 have spent several Evenings and Saturdays in painting and varnishing doors, desks, etc".
Do you suppose that many teachers today would be happy about having to spend their evenings and weekends painting and decorating the school after work !
DIY has been around for longer than we thought !
Back to Crickhowell schools menu