This example is from the official Log Book of Crickhowell British School for 1882 -
20th January - "Many children away ; some of the boys go out 'beating' game when shooting goes on in the neighbourhood. For their services they receive a shilling a day and their food. I have found this a great hindrance in the way of securing good attendance".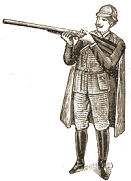 It is not surprising that some of the boys found the offer of a shilling a day plus free food hard to resist as an alternative to going to school !
Most shoots were held on private estates owned by the important local gentry, so the teachers were not able to complain about the arrangements. They had to make do with writing in the school diary instead !
But there were some days when children actually arrived at school, as shown on the next page...
How strange - they're all here ! ...
"Nearly all the boys from Grywynefechan have been kept away this last fortnight to tar the rabbit holes ready for the shooting party. Attendance very poor in consequence".
Llanbedr National School
20th November 1896