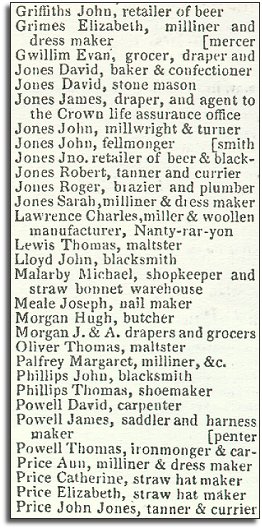 As with the first section of tradesmen from Pigot's Directory 1835, there are trades here which are unfamiliar to us today.
A draper was a man or woman who sold cloth. A mercer also sold cloth but usually concentrated on more expensive materials like silk. This was important at a time when a great many people made or repaired their own clothes.
Notice how many people are involved with making or selling hats. The milliner is a maker of all kinds of hats and there are many sellers and makers of straw hats and bonnets. It is very rare to find anyone going about bareheaded in an old Victorian photograph.
Roger Jones is listed here as brazier and plumber. A brazier is someone who makes metal objects out of brass. Brass was used for making lamps and handles and and many other things and also used to solder iron pieces together.
A fellmonger dealt in animal skins or hides. Along with the tanner and currier who made leather from the skins they provided an important role in Victorian times.