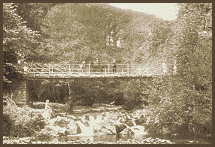 The streams and rivers struggled to cope with all the water which had fallen, and around 20 bridges were damaged or destroyed and
8 people drowned.
A huge amount of water fell on the upland area of Mynydd Epynt, and a lot of this water drained into the river Duhonw where the bridge at Llanddewi'r Cwm (above) was swept away. So much water came down that the river washed trees and rocks down its course.
Thomas Evans, the miller at Dolau-newydd Mill, had to make a hole in his roof and pull his family through onto the very top to avoid the flood which hit the building and washed part of it away. They must have been terrified as they held on in the darkness as the thunder crashed above them and the river swept trees and dead animals down past the damaged mill.
.