The cast iron tram wheels fit over the rails of the tramroad. This stopped them slipping off the rails on the bends.
The lime was important to farmers because it could be spread on the fields to increase the fertility of the land. It was also important to builders as they needed powdered lime to make cement.
The tramroad was constructed like a railway. It was based upon the idea that a horse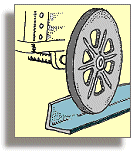 could pull more weight on a smooth and fairly level set of rails than it could over a steep and bumpy road.
Although the tramroad carried fewer goods to and from Brecon than the canal, it was still important to the development of the town and smaller communities around it in early Victorian times.
Another tramroad came into the area over the mountains from the south. This was the Great Forest of Brecon tramway which came north from the industrial areas of the Tawe valley over the mountains to a depot at Sennybridge. This also had an important effect on the development of the area. For more details click here.
For more details on the
tramroad
from Hay to Brecon, and to find out more about the building and running of the tramroad see the
Talgarth tramroad pages