Notice of
reduced price
of coal at
Brecon wharf
from
March 1817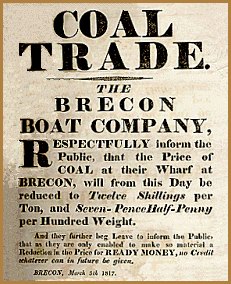 Further down the canal, other tramroads were used to bring coal from Clydach and other mines to loading wharves alongside the canal, and then on by boat to Brecon.
Large stocks of coal were held at the company's wharf in the town to supply local needs, and coal was also carried on from Brecon on the tramroad to Hay and beyond.
Because transport costs are so important in the case of bulky and heavy goods, the tramroads and the canal were to make huge differences to the cost of coal.