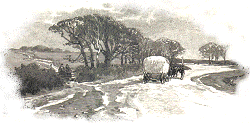 The transport costs also made a huge difference to the price of goods being sent to Brecon from the south.
Large amounts of coal were needed for the town and areas around, and the price went up dramatically whenever the canal froze over in a cold winter. This happened in 1860, and the coal had to be carried in carts over rough roads.
It was also hoped that a steam railway service to Brecon would bring down the price of limestone brought up from quarries north of Merthyr. When burned with coal in limekilns this produced lime for use as fertiliser or for building.
There is more about the arrival of the new steam railways at Brecon on the next page...
The railway comes to Brecon...
Sending heavy goods by
horse-drawn wagons was
slower and more expensive
than by canal, and many
roads could be very bad
in winter.