Route of
the Brecon
& Merthyr
Railway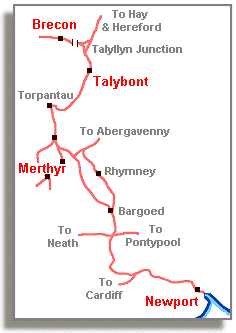 At this time there was a 'railway mania' (similar to the 'canal mania' of the 1790s) with fierce competition between companies which put up rival proposals for new railways in the hope of making large profits. Many planned lines were never built, and a lot of money and effort was wasted.
The steam railway age came to Brecon on 1st May 1863 when the line to Merthyr was opened for traffic.
In September of the next year, 1864, Brecon gained a rail link with Llanidloes by the Mid-Wales Railway and with Hereford by the Hereford, Hay & Brecon Railway. The connection with these lines to the north and east was at Talyllyn Junction.