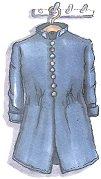 For many working men in the county a job with the new police force would mean a regular income and a chance for a career with promotion and a pension at the end.
The constables and sergeants all had to be able to read and write and be of good character.
The ordinary constable starting at the bottom of the profession was paid around 15/- [75p] per week. He was supplied with a uniform, however.
This extract from the Quarter Sessions records lists the clothing which had to be provided for the constables.