Oriental fireplace
in the drawing room
at Craig-y-nos
Photograph by
kind permission of
Brecknock Museum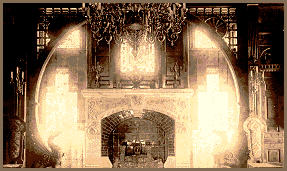 Patti's last years
The Diva made her last public appearance in October 1914 when she sang for the Red Cross and, once again, filled the Albert Hall with an adoring public that loved her still. Her life of travel was almost through, and she came to spend the greater part of the year at Craig-y-nos with her husband and a devoted staff.
Household staff in the
Winter Garden at
Craig-y-nos
Photograph by
kind permission of
Brecknock Museum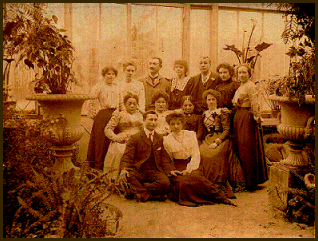 The winter garden was another architectural feature to be built for the Baroness at the end of the 19th century. A spacious building with a soaring roof and made mainly from glass, this was where the Diva would promenade with her guests among tropical plants whilst exotic birds flew within. A pair of iron fountains fashioned as cranes with multi-coloured plumage shed rainbow light from their falling waters and captivated all who saw them.
Once again, time and the war brought change to the castle, and in 1918 the Prima Donna presented her winter garden to the people of Swansea where it became the Patti Pavilion and has been restored. One of the fountains stands in the forecourt of the castle and the other is said to exist in the grounds of Swansea University. When the contractors arrived to dismantle the winter garden they were told that all able bodied men had gone to war and they would have to find an alternative labour force.