A new mistress
In 1878, the castle and its setting captivated the leading opera star of that day, who felt she had found the home of her dreams amid the calm isolation of this beautiful valley. It's name alone strikes a romantic note and in rough translation means 'Rock of the Night'.
This small estate in the mountains of Wales appealed to Madam Adelina Juana Maria Patti, who brought the castle and surrounding park land for £3500. The prima donna had reached the soaring heights of a spectacular career and was to spend the rest of her life at Craig-y-nos, leaving to sing in the premier opera house of Europe and elsewhere, captivating the world with her flawless soprano voice.
Madam
Adelina Patti
By kind
permission of
Brecknock Museum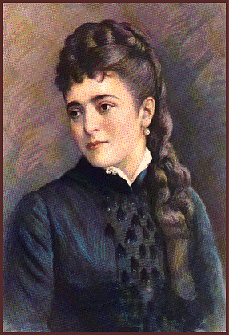 The castle soon reflected the life of Patti and the glittering years to follow, when leading international figures including Prince Henry of Battenburg and the Crown Prince of Sweden came to stay.
Although unconfirmed, it is said that Edward VII visited Craig-y-nos when still the Prince of Wales.
One story relates to a time when his train was delayed and the party arrived late at night. The servants awoke to the sound of unknown visitors and Madam Patti shooed them back to bed before receiving her guests personally. On the following day, the staff saw the Prince and realised why their Lady was not abed on the previous night.
For twenty five years she sang for Queen Victoria by private invitation and would surely have known many members of the Royal family. Many honours were bestowed upon the Diva and the Tzar Alexander II awarded her the Russian Order of Merit in 1870
Other sovereigns of state, including Franz Josef of Austria and Emperor Maximillian of Mexico, showed their appreciation in a similar manner.