Elan Village
school staff
1898
Photograph by
kind permission of
Radnorshire Museum,
Llandrindod Wells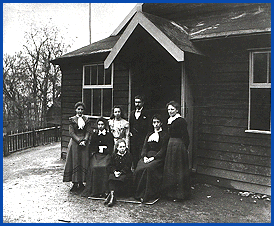 The temporary school in the village is pictured here in 1898, with the staff arranged outside the building. The headmaster, Mr Upstone, is standing in the doorway at the rear of the group.
A report on the progress of the school in that year noted that:
"At first considerable difficulty was experienced in bringing the navvy children under the discipline of regular instruction...but now good progress is being made. Some of the work I saw in the Elan School was such that it is worthy of being placed side by side with some of the work of the Birmingham Board Schools."
The extracts on this
page are from
"The Future Water
Supply of Birmingham"
by Thomas Barclay,
published in 1898.
Because the individual dam construction sites were widely dispersed over such a large area, some accommodation huts were provided at distances of up to seven miles from the village school. The following quote in this connection can well be believed:
"To meet this difficulty a special railway carriage has been provided which brings the children down by train in the morning, and takes them back in the afternoon. It is scarcely necessary to say that, since that arrangement was brought into operation, there has been no difficulty in securing the attendance of the youngsters concerned".
There are 7 pages on Elan Village. Use the box links below to view the other pages.