The main ward of
the accident hospital,
February 1897
Photograph by
kind permission of
Radnorshire Museum,
Llandrindod Wells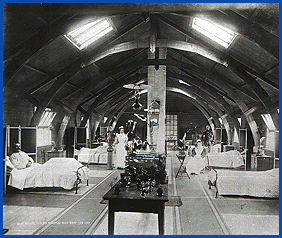 The 1897 photograph of the main ward in the Accident Hospital in the village shown here illustrates the very high standards of the facilities provided. The floor was carpeted, and there was ample heating and even plants and flowers in the ward.
A contemporary report on the services provided in the navvies village in the Elan Valley referred to the work of the accident hospital:
"Most of the cases arise through the men either falling on the rocks, or through rocks falling on them. Injuries to the eye are also frequent in the masons yard. Occasionally an accident occurs through the careless use of explosives, and there have in addition been two or three deaths through men being crushed on the railways".
The extracts on this
page are from
"The Future Water
Supply of Birmingham"
by Thomas Barclay,
published in 1898.
The isolation hospital for infectious diseases was to prove its worth in 1896, when a severe smallpox epidemic, which spread through the west of England and south Wales, was kept out of the village. The report quoted above noted that "notwithstanding the large number of tramps coming to the works, the village was fortunately preserved from any outbreak of smallpox, and it is only reasonable to suppose that the precautions taken prevented what would, under the special circumstances of the place, have proved a dire disaster".
There are 7 pages on Elan Village. Use the box links below to view the other pages.