Steam-powered
self-propelled
crane at
Elan Valley
Steam power and horse power
The huge scale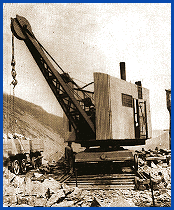 of the civil engineering task of building the dams, reservoirs and aqueduct for the Elan Valley waterworks scheme meant that the use of steam-powered machinery was essential. Apart from the elaborate network of the specially constructed railway, which reached 33 miles in length at the peak of the scheme, there were massive self-propelled and stationary steam cranes, stone-cutting saws, and crushing plants. Steam cranes were often operated from railway tracks cantilevered out on the near-vertical faces of the dams.
One of the large stone-crushing machines was able to break up as much as 140 tons in a day. Many of the heavy duty tasks were in the quarries in different locations around the watershed.
Stone-dressing
yard near
Careg-Ddu
dam site, 1896
(far right)
Early equipment powered by compressed air was found to be very valuable in the cours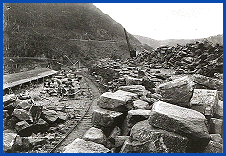 e of the construction work. The air compressors were then known as "wind-jammers", and they made use of very long tubes to power tools at some distance from the steam-driven power source.
This type of plant was used for drilling rock to make holes for dynamite, for drilling in quarries, and for use in metal working shops. An account written in 1898 noted that "so widely distributed is the plant that there are something like two miles of tube employed from the one station."
Photographs by
kind permission of
Radnorshire Museum,
Llandrindod Wells
These quotations are
from 'The Future Water
Supply of Birmingham'
by Thomas Barclay
published in 1898.
This system was found to be much better than direct steam power for many tasks, avoiding the need for large numbers of boilers at different locations. The same account proudly commented that "It may be observed here, in illustration of the skilful organisation of these large works, where over 1,000 men are employed, that in the whole of the operations only seven horses are in use, though one or two more will be required later on as the work increases."
The few horses used during the building of the dams were occasionally the cause of serious accidents to workers when they were frightened and made to bolt by the setting off of explosives for blasting operations.