Family origins
Sir Harford was descended from one Griffith Jones of Trewern, Llanfihangel Nantmelan, who was the first of the family to take a surname. He was sheriff of Radnorshire in 1549 and is famous for killing his own brother Thomas in a violent quarrel.
A later family member, Colonel James Jones, lost an arm at Blenheim. The Colonel's third wife was Mary Harford of Bosbury and her surname became a traditional christian name for sons of the family, four generations of sons of the name Harford Jones served as Sheriff of Radnorshire.
Harford House
Presteigne
as it appears
today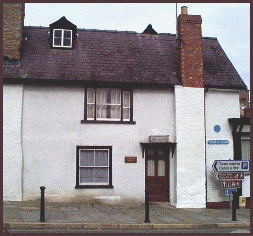 Diplomatic career
The first baronet was born at Harford House in Presteigne in 1764. He entered the service of the East India Company at an early age and showed an aptitude for oriental languages. His early successes earned him a baronetcy in 1807 and the post of envoy extraordinary and minister plenipotentiary to the royal court of Persia which he held from 1807 to 1811. His success there failed to secure him the advancement he wanted in the Company's service and he resigned from it. His diplomatic experiences left him with a keen interest in matters oriental, however, and he published an account of his years in Persia along with translations of Persian works and treatises on Britain's foreign policies in the East.
He denounced Britain's conquest and annexation of Sind to the directors of the East India Company and was not afraid of putting forward his views at the highest level. He was given an honourary DCL degree from Oxford in 1831 and was made a Privy Councillor the following year.
There are two pages on Sir Harford Jones Brydges.