Hay Castle
c1830
Photograph by
kind permission of
Eric Lewis Pugh
of Hay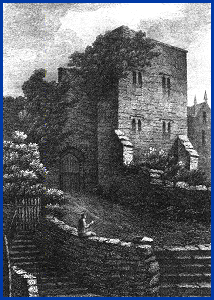 Much of the early history of Hay Castle was bound up in the fortunes of the dynasty of the mighty Barons de Breos until the mid 13th century. The castle was then held by the de Bohun family until early in the 15th century.
Hay Castle and much of the then town had, by some accounts, been totally destroyed by Owain Glyndwr and his forces in the early 15th century as he travelled south after his victory at the battle of Pilleth, near Presteigne. It is now believed that any damage in Hay was much less severe, possibly because of support for Glyndwr in the area at that time.
Very little of the original castle has survived, other than the main gateway and part of the keep. A many gabled Jacobean mansion, which dominated the town below, was built alongside the castle remains in about 1660. Part of the mansion is visible on the right in the early print shown above.
There are 3 pages on Hay Castle. Use the box links below to view the other pages.