Disputes after dissolution
At the dissolution of the priory in 1538, Prior Robert Halden was given a pension. Most of the priory buildings and much of the estate was granted to Sir John Price. As the church was still in use as a parish church there were disputes over the lead from the roof and the bells. The priory buildings were adapted to secular use and the cloisters themselves were finally demolished in the eighteenth century.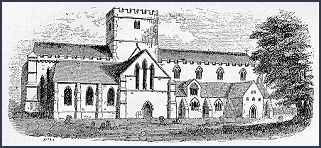 By the early nineteenth century the church was in poor repair with windows boarded over and only the nave fit for use. Lord Camden paid for small scale renovations in 1836 which kept the building in use, but it was not until the report on the state of the church commissioned from Gilbert Scott that major renovation took place in the 1860's and 70's.
A new diocese
By the 1890's there were firm proposals for the creation of a new diocese for Swansea and Brecon but this did not really get under way until the disestablishment of the church in Wales. The tower was strengthened in 1914 and the south-east chapels restored to medieval dimensions later.
The new diocese was finally formally established in 1923. Within twenty years the buildings in the area of the former priory were all acquired for the cathedral and chapter by purchase or gift.
There are 2 pages on the church of St John the Evangelist. Use the box links below to view the other pages.