Founded in 1093
The Priory of St John the Evangelist in Brecon was founded by Bernard de Neufmarche shortly after he defeated Rhys ap Tewdwr, overlord of Brycheiniog, in 1093. Bernard gave the existing church of St John to the newly founded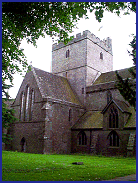 Benedictine abbey at Battle at the request of one Roger, a monk of Battle Abbey, who was a follower of Bernard's. This Roger then began the rebuilding of the church 'from the foundations' and the addition of domestic buildings.
The Priory at Brecon was to remain a dependant cell of Battle Abbey until the suppression of the monasteries under Henry VIII. The priory church was to serve also as the parish church for Brecon, the townspeople using the nave and the monks the rest of the church. The parish priest was appointed by the Abbot.
The Golden Rood
The priory is known to have had several relics in its possession. From at least 1408 the church was known as the church of Holy Rood or Holy Cross, because of the great 'golden rood' which was an object of pilgrimage until it was destroyed in the Dissolution
The Priory owned land in and around the town of Brecon and estates in Wales and the borders, and various marcher lords added to its holdings. Although the Abbot had great influence locally through administration of the estates, and power of appointment over dependant churches, there were never more than six accompanying monks at the priory.
There are 2 pages on the church of St John the Evangelist. Use the box links below to view the other pages.