This was written in January 1885, and it reads:
"The ground is covered with snow, and we have no fire in School.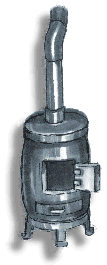 The old stove has been out of repair for a long time and I have made several applications to the Board for a new one".
The records of many country schools in Victorian times tell a similar story of cold and leaking classrooms, and sometimes they have stoves which work but don't have any coal or wood for fuel !
No central heating in those days !
Back to Ystradgynlais schools menu