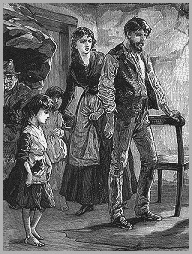 The list shows a number of widows and one old gentleman living in Ystradgynlais.
The most that any of them received was 4/6d (22p) per week.
Although this was worth much more in 1877 it was still a tiny amount, and probably all they had to survive on. They almost certainly thought themselves lucky not to be in the workhouse.
Families in the Swansea valley faced disease and great hardship. If they were employed in the mines, quarries or ironworks they faced danger of death or serious injury.
If they were unemployed or not well enough to work then they had to survive on the sort of handouts we can see on this list.
For the poor, Victorian Wales could be a very bleak place.