"School was closed today on account of Barnum and Bailey's Show at Swansea."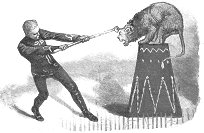 Barnum and Bailey was a famous travelling circus of the time, and this entry was from 1899.
An earlier entry from 1876 said "This afternoon there was a small school owing to the expected arrival of a circus at Ystalyfera. I was not sorry when I learnt afterwards that it did not arrive".
The children were probaby sorry, though ! There are more missing children on the next page ...
Hamsters are much
easier to handle !