The 'heir' of an estate or a title was the oldest son of the family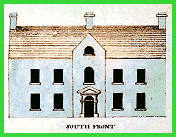 who would become the owner on the death of the father. The drawing of Ynscedwyn House shown here was made in 1838.
The 'coming of age' meant that the son, Fleming Dansey Gough, had reached the age of 21, which meant that this particular birthday was marked with celebrations for all the local people.
The local children made a special effort not to be absent from school on that day, because of the free party !
Back to Ystradgynlais schools menu