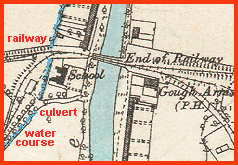 "...Fortunately two little boys of his own age saw him fall and raised the alarm, and the little child was rescued considerably bruised and bleeding."
This was a very lucky escape for William !
Hopefully there aren't any school playgrounds in use today with unfenced streams or railway lines next to them !
Back to Ystradgynlais schools menu
The School and the nearby
dangers from the railway
track, the watercourse and
the river are shown on this
1887 map.