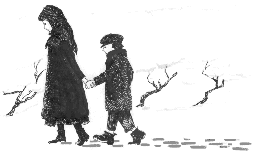 In winter most schools started and finished their afternoons earlier so that children did not have to walk home in the dark.
Even so it is not surprising that the weather kept many of the younger children away in winter.
Many did not have proper footwear - some were even barefoot - and the risk of catching a chill just too great.
Some teachers recorded that hardly any infants got to school for weeks on end.