The master and matron in workhouses were capable of terrible cruelty. Discipline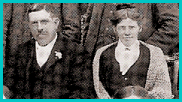 was so strict it is not surprising that in some places riots often broke out.
This picture shows the master and matron of Machynlleth workhouse, Mr and Mrs John Jones in 1914.

Find out more about discipline in the workhouse by using the links below ...