The Forden workhouse was once called the "House of Industry" and at the beginning of the nineteenth century men, women and children were required to make flannel which was sold at a profit.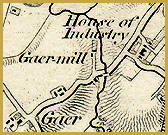 A typical working day usually lasted about 10 hours. Inmates were punished if they did not work hard enough.
The entry below from the records of the workouse tells of the successful sale of their newly made flannel at Welshpool.