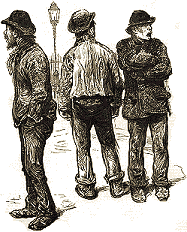 For these and other reasons things began to go wrong for local factories.
Some mills closed in the 1890s, some carried on into the 20th century. When most of the Cambrian Mill burned down in 1912 that really meant the end for the industry in Newtown.
The workers and their families faced a difficult choice. Many left the area to find work elsewhere. Some stayed and were unemployed, looking for what work they could find. There was always the danger that they would be taken to the workhouse, though. The end of the industry meant difficult times in late Victorian Newtown.
.