To find out more about workhouses in general, click on the image above
The first workhouse in Forden union was built as a "House of Industry" in 1794-5. It cost £12,000 and was intended to house about 1000 inmates from the border parishes.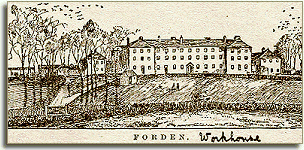 This is an awful lot of people from a sparsely populated rural area. It seems that the authorities were keen to get poor people shut away where they could not be seen.
Once in the workhouse they were men were housed separately from the women and children so that families were split up. The food and accommodation kept people alive but were very basic. The idea was to provide a "safety net" so that really poor people did not actually starve to death, but it was meant to be more like prison so that people would try very hard to avoid it.


In the early days inmates could be whipped or put in the stocks, or be forced to wear a scolds bridle. (left)
(Click on the image to see more about the bridle from Forden workhouse)