Don't forget!
The surnames are first.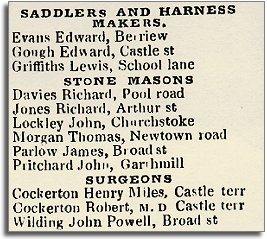 In Victorian times the transport between the towns and villages in Powys was nearly all horse-drawn. (A few lucky places were connected by train after the 1860s).
Farmers and tradesmen used carts to get their goods about, so the job of saddler and harness maker was an important one.
By 1858 medicine had advanced and the role of doctor or surgeon was a more respected one. Montgomery had three surgeons including what appears to be two from one family - both Dr Cockerton.