The layout of the town is almost unchanged from its medieval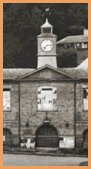 beginnings, and it has many well-preserved Georgian buildings and cobbled pavements.
The Town Hall, in the centre of this old picture postcard, was built in 1748. It is a very impressive building for such a small town, for it was once the county town of Montgomeryshire. A tall clock tower (right) was added to the roof in 1921.
Montgomery lies less than a mile from the border with England.
Back to Montgomery picture menu