Don't forget!
The surnames are first.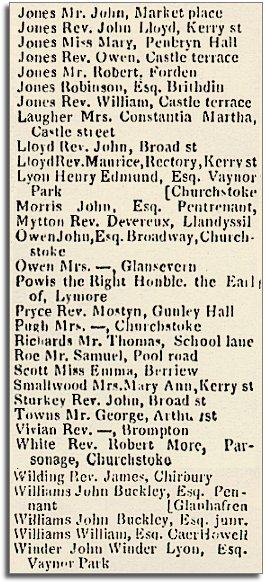 Here is the rest of the list of gentry for the Montgomery area from Slater's Directory of 1858.
Some of those listed would have been local clergymen getting by on under £1000 per year, while others like the Earl of Powis and John Winder Lyon Winder of Vaynor Park were the owners of large estates.
The Earl of Powis appears under different areas in the directory as he owned several properties. He is listed here as the owner of the large timbered hall at Lymore Park. This fine old building has since been demolished.
The Earl has 'Right Honble' [Right Honourable] after his name. Only members of the Queen's own group of advisors the Privy Council were known by this title. This shows what an important man the Earl was at this time.