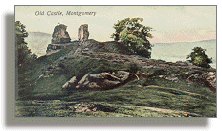 The castle ruins are also shown in this early hand coloured postcard (right).
The castle was built in 1223 as a defensive fortress to guard the border between England and Wales.
The Severn Valley was an obvious invasion route into the Welsh hills from Shrewsbury, and Montgomery served originally as a garrison town.
The castle was ordered by Parliament to be demolished in the 17th century after the Civil War.
Back to Montgomery picture menu
Cards like this were made by using tiny brushes to tint black and white photographs with coloured inks.
These pictures had much softer colours than the proper colour photographs which came along much later.