To find out more about workhouses in general, click on the image above.
In the workhouses around Britain it was common for the workhouse authorities to try to place young inmates as apprentices with craftsmen in the area.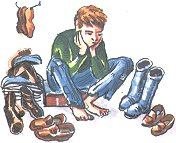 Sometimes they would be sent far away to craftsmen and sometimes they would be sent as unskilled workers in dangerous factories where they could be injured or even killed. The parents in the workhouse had no say in the arrangement and would sometimes only be given time to say goodbye.
The Guardians of the Montgomery and Pool Union (later Forden Union) do seem to have been keen to set their youngsters up in proper useful trades.
In the entries below we can see some of their arrangements.
APPRENTICES
In Victorian times working people often tried to get their sons apprenticed to a local craftsman. This meant the boy would leave home and live with the craftsman who taught him all the skills of his trade. The family would have to pay the craftsman a fee and the boy would get little in the way of pay. At the end of the apprenticeship of several years he would be able to set up his own business and would have better opportunities than if he was an unskilled labourer.