Drawing by
Rob Davies
One important source of information for crime and punishment in Powys is the records of the Montgomeryshire Quarter Sessions.
These were courts held 4 times a year (once a quarter) where men and women were brought when accused of a crime.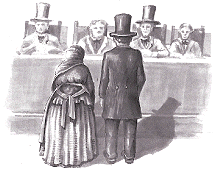 A jury of twelve men would listen to the evidence and decide whether the accused person was guilty or not, and then the Justices of the Peace would decide on a punishment if they were found guilty. As these Justices usually sat in a row they are often described as being 'on the bench'.
Justices of the Peace - educated and property-owning men who ran the affairs of a county for the Queen.