Again the staff at the National School seem to have been sympathetic to the parents' difficulties. A report of 1847 complained that the school allowed the children to attend school without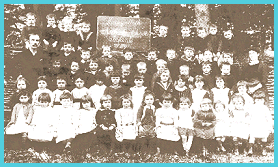 paying.
In 1886 a new British School opened in LLynlloeth Lane and families who attended the various chapels in the area could send their children there instead of to the National School.
The photograph shows the new school's infant class in 1890.
From these humble beginnings came education for all children in the area around Machynlleth. Even these early days of writing on slates and huddling around the school stove did much to change young lives for the better.
Back to Machynlleth schools menu