The first people to be listed in Victorian directories were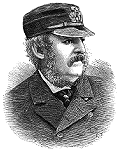 always the "Gentry" and the clergy.
In the Slater's Directory of 1858, there were a relatively large number who found a place among these privileged members of the community, since 38 names appeared under this heading.
Some of these entries are a bit fuzzy and hard to read, but they are over 140 years old !
The Marquis of
Londonderry,
formerly Earl Vane
of Plas Machynlleth
(see below)