Apart from the misery of being horribly cold in school, the lack of decent heating in winter caused problems for the sewing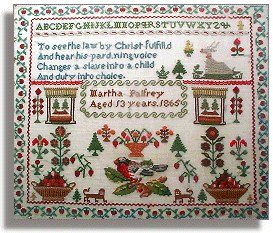 classes given to the girls. These were considered to be very important for Victorian schoolgirls, and they had to make up pinafores and other items, and sew samplers ready for the school Inspector's examinations.
These entries from the official diary of Abergwesyn School in 1895 note that it wasn't easy to use a sewing needle properly if your tiny hands were frozen...
This is part of
a young girl's
sewing sampler,
made in 1865.
It is one of many Victorian items to be seen in the Radnorshire Museum Llandrindod Wells.