Many drovers were also farmers or inn-keepers as well as dealers in livestock, and none could operate without a licence.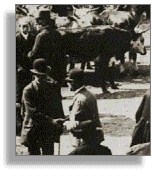 Only men who were householders, were aged over 30, and were married, could apply for a droving licence.
The drovers had to be carefully vetted because they had charge of large numbers of valuable animals, and the livelihood of many farmers and other people in Wales depended upon their skill and honesty.
During their regular journeys to England they were often entrusted with tasks like paying rents owed to landlords living in London, and other transactions not connected with the livestock trade. The drovers, however, were paid well for the demands of the job compared to other agricultural workers. At the height of the trade in the 1840s and 1850s some of the top cattle dealers employed up to 20 drovers each.