In Victorian times there were no plastics, and glass was fairly expensive. Large quantities of liquid were therefore transported by barrel.
The cooper in his workshop made wooden barrels. This was a very skilled and important job. When not needed the barrels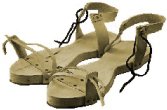 could be taken apart and stored.
In the days before wellington boots, poorer women tied wooden pattens to their shoes to protect them from the mud. Every small town would have had a patten maker like David Davies of Llanfyllin.